Designing for Direct Mail
Direct mail is staging a comeback! Instead of concentrating solely on saturated channels such as email and social media, marketers are once again embracing mail's superior open and conversion rates. To produce the best results requires both creative designs and compliance with postal mail best practices. Designers who have spent little time with direct mail may need to get up to speed on the details that make a direct mail campaign successful.
The volume and complexity of the US Postal Service's Domestic Mail Manual can be overwhelming, but creative people need to focus on only a few important areas to ensure their designs flow smoothly through the mail. Design missteps that affect mailability can be expensive. Errors discovered at production time increase costs and put deadlines in jeopardy. A bit of knowledge is all it takes to prevent last-minute disasters and get maximum value from direct mail campaigns.
Basic Design for Direct Mail
It may seem obvious, but postal automation equipment must be able to read the addresses printed on mailpieces. The best way for designers to avoid problems in this area is making sure the space they reserve for the mailing address is white or light colored. Choose matte or dull finishes to prevent reflections that hinder address-reading equipment.
Bleed-throughs can also cause readability problems so make sure text and images don't show through from the opposite side of the paper or the envelopes, but don't select material that is too thick or stiff. Mail handling equipment requires material to be flexible as it passes over belts and rollers.
Aspect ratios are items that designers often overlook. Out of spec dimensions won't keep your mail from being processed, but USPS surcharges will have a dramatic effect on postage costs. Aspect ratio refers to the relationship of the height of a mailpiece to its length. To avoid non-machinable surcharges, the ratio must fall between 1.3 and 2.5. Divide the length of the piece by the height to calculate the aspect ratio. The USPS defines the length of a piece as the edge parallel to the delivery address, so avoid vertically oriented address blocks. Remember a perfectly square mailpiece has an aspect ratio of 1, so it doesn't meet the standard necessary to qualify for the lowest postage rates.
Address Placement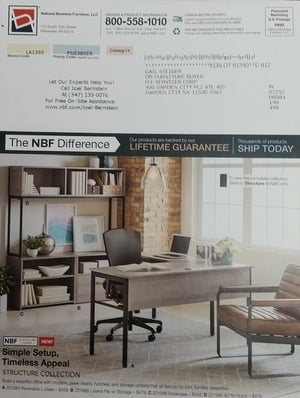 Mailers must position the mailing address in a rectangular region that begins 5/8" from the bottom of the piece and ends vertically 2 3/4" from the bottom of the piece. Delivery addresses can appear anywhere within the vertical limits, but cannot be closer than 1/2˝ from the left or right edge of the mailpiece.
Designers must leave room for the postal barcode which postal equipment will apply in an area at the bottom right corner of the address side of the mailpiece. The barcode clear zone is 4 3/4˝ wide by 5/8" high. Leave that area blank.
The return address appears in the upper left corner, in the top third of the mailpiece, separated by at least 1˝ horizontally and vertically from the delivery address. Return addresses may include artwork or logos. All permit mail must include a return address.
Check out the USPS Quick Service Guide 602 for guidance about the address side of mailpieces.
Self-Mailers
Folded self-mailers are pieces folded into two or more panels, resulting in letter-size mail. Because self-mailers are not enclosed in envelopes, the postal service has published several rules regarding their design and construction. Folding specifications and sealing methods are two problem areas that cause mail to be rejected or assessed extra postage and surcharges.
Refer to this slide presentation to acquaint yourself with the many guidelines that apply to this type of mail.
A best practice for designing folded self-mailers is to confer with a Mailpiece Design Analyst (MDA) available from the US Postal Service before finalizing a design. This will save you time and money.
Size and Shape
Unless the client will pay the surcharge for irregular shapes, direct mail pieces should be rectangular. Measurements should fall within the following dimension requirements.
Postcards should be 3 1/2" to 4 1/4˝ high and 5˝ to 6˝ long. The thickness must be between .007" and .016˝, or ideally 8 pt. to 10 pt. cover stock.
Letters are 3 1/2" to 6 1/8˝ high and 5˝ to 11 1/2˝ long. Letters can be up to 1/4˝ thick.
Machinable letter-size mail pieces in envelopes can weigh a maximum of 3 ½ oz. They cannot be shrink-wrapped, poly bagged, clasped, or have any closure that can damage the processing equipment.

Direct Mail Works – But Follow the Rules
Direct mail, even with all its rules, is still one of the most highly effective means of engaging your audiences. This is true for all demographics. Familiarity with mailing requirements will allow marketers to realize the greatest benefits from their direct mail investments.
Designers may regard mailing rules as complicated and inhibiting, but they are necessary to ensure the postal service can process mail pieces quickly and keep postage prices low. Combining creative design with USPS rule compliance is the smart way to use direct mail effectively.
A version of this article was originally published on 04-20-2020.
E
Roger Gimbel
Author's page
In 2001, Roger Gimbel founded Gimbel & Associates, an international consulting firm providing business and market development services, skills training, and expert public speaking in the graphic communications and digital solutions industry. The mission of Gimbel & Associates is to help clients identify new business opportunities and implement leading-edge solutions using expertise in organizational development, technology selection, implementation, and work processes.
Roger oversees a team of Consultants with expertise in sales training, workflow analysis, MicroModeling, multichannel marketing, marketing plans, transactional printing, trans-promotional applications and creative strategies for mergers and acquisitions, business development workshops and seminars.