Of Course Your Customers Are Satisfied. But Are They Loyal?

In research conducted by HR Chally, 80 percent of customers who defected from their current supplier described themselves as satisfied or very satisfied! How could that be? So much for measuring customer satisfaction...
No customer/supplier relationship is static. Things change. People change on their side. People change on your side. Economic conditions change. Technology changes. Customer priorities change. Your company's priorities change. It is your ability as a company to step up to the challenge of change that differentiates you as a company. The ability to change, requires an ability to learn.
First and foremost, it is important that you learn how value is perceived through the customer's operating reality. Let me explain the graphic above and how this customer will soon become a lost customer.
As you can see by our graphic above with Customer 1, The Point of Fear is where the Value = Benefits minus Cost equation is neutral. Here is how it works: a customer has challenges with a certain set of products and services. In other words, they are at a "recognition of needs" in their decision process. Your company comes in with a proposal/presentation and your relative cost to eliminate the challenges has tremendous perceived value. The customer awards you a contract. Over time, and change, as described earlier (people, priorities, technology, etc.) takes place. Add to this dynamic environment the fact that the customer sees little to no challenges with the areas of business you have been handling, but has also been bombarded by other suppliers stating that they could deliver a better program at a lower price. Unfortunately, this supplier wasn't doing Quarterly Business Reviews and uncovering changing priorities.
The fact is, you are now at The Point of Fear! Your client is officially vulnerable to competitive threats! Are they satisfied? Perhaps, they are satisfied, but satisfaction does not equal loyalty! What could be worse? A new key decision maker ("KDM") enters the picture as in Customer 2.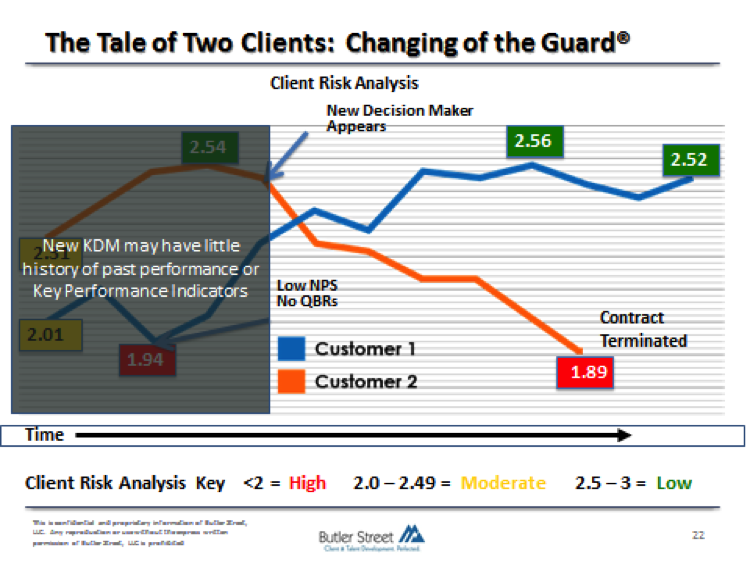 Now take a look at what the graphic looks like immediately above. Notice we have "grayed-out" everything that occurred before the new Key Decision Maker. The new KDM has no history with your company and the value you created. In this case you move from green or "all good" to being "red" in terms of your Client Risk Analysis. Most likely, the end is near...
Could this situation have been prevented? Could you still save these much valued customers? The answer is yes to the first question. It depends to the second question. In the case of customer 1, adjustments were made and the account flourished. In the case of customer 2, the picture tells the story.
Let's wrap up with what could have been done to prevent The Point of Fear and Changing of the Guard. At a high level, it comes down to three critical things:
Measure Customer Loyalty through Net Promoter Survey.
Implement Key Account Management including a Client Risk Analysis
Conduct Quarterly Business Reviews in an effort to advance the relationship.
At Butler Street, we specialize in client retention and expansion. Click on the videos below to learn more about our approach and methodologies.
Mary Ann McLaughlin on Client Retention (Video)
Mike Jacoutot on: The Silent Killer: Changing of the Guard (Video)
Butler Street, a leading management consulting, training and research firm focused on client and talent development, has formed an alliance with Printing Impressions, America's most influential and widely read resource for the printing industry, to provide the de facto industry standard for measuring customer loyalty through its Best of Print & Digital Customer Survey.
If you are interested in understanding how Net Promoter Score and the Best of Print and Digital can help you grow your business, go to www.bestofprintanddigital.com
Click here to watch the Printing Impressions interview with Mike Jacoutot, founder of Butler Street, and Mark Subers, president of Printing, Packaging and Publishing at NAPCO Media, as they discuss the new partnership program.
E
Mike Jacoutot
Author's page
With 194 percent year over year growth and a 90 Net Promoter Score, Butler Street has established itself as one of the leading consulting, training and research firms to the middle market. Before founding Butler Street, Mike Jacoutot spent the previous nine years as CEO of a national health care staffing company and most recently, a revenue cycle company. Jacoutot brings a strong combination of Lean Six Sigma process skills together with 34 years of sales and marketing experience. 

Jacoutot is also the author of "Become the Only Choice." Now in its third printing, the book emphasizes a combination of consultative selling and process management techniques to enable salespeople to sell the way clients buy.
A four-time All-American collegiate wrestler, Jacoutot led The College of New Jersey wrestling team to two national championships. He culminated his senior year by winning the NCAA Division III Championship after three consecutive second place finishes. In March 2015, Jacoutot was inducted into the National Wrestling Coaches Hall of Fame. In October 2013, he was also inducted into The College of New Jersey Athletic Hall of Fame along with his 1981 NCAA Division III Championship Team. He holds a B.A. in Management.