Informed Delivery Program: An Easy Way to Connect Print and Digital
The USPS Informed Delivery program continues to gain momentum. As of this writing, the program includes around 13 million subscribers. An impressive 65% of email subscribers check their Informed Delivery emails nearly every day. If you've ever run email campaigns, you're probably aware that achieving a 65% open rate is quite a feat.
This USPS program is free for both mailers and recipients. Here's how it works:
Consumers sign up for Informed Delivery at USPS.com.
After verifying customer identities, the USPS sends consumers scanned images of the letter-size mail they will receive in their physical mailboxes later in the day. Emails containing the images generally arrive in consumer inboxes in the morning.
Optionally, mailers may replace the USPS greyscale mail piece images with full color graphics that include links and calls to action. Mailers can segment these representative images and links, allowing them to test multiple versions or deliver relevant offers according to variables such as sex, age, or geographic location.
Informed Delivery benefits direct marketers by adding a second impression and a call to action to a physical mail piece with no added postage or postal fees. It's an instant multi-channel campaign produced with a small amount of work.
The program currently covers only letter-size mail. Images of catalogs, periodicals, flats, or parcels are not part of the product. However, mailers of these pieces can still run Informed Delivery campaigns with representative images and links, gaining all the benefits of the program without a need for the mail piece scans.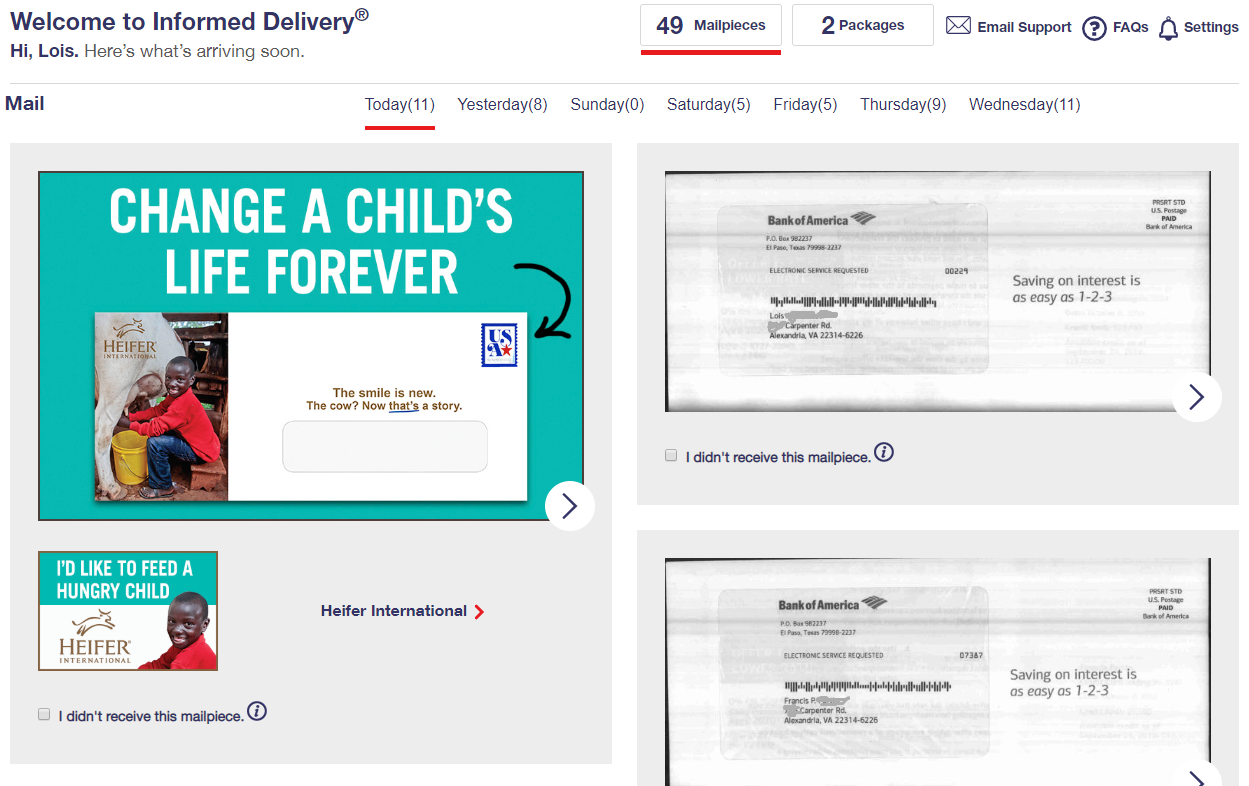 A Win for Print Service Providers
Informed Delivery offers several opportunities for print service providers. They can set up campaigns for their clients to include the full-color representative images and landing pages. This extra work generates new revenue from existing clients. More importantly, Informed Delivery helps print providers take a step towards integrating their services more closely with their clients' objectives for sales or lead development.
Depending on the offer, other printer opportunities triggered by Informed Delivery could include fulfilling requests for documents or sample products, micro sites, follow-up communications, or highly targeted mail campaigns.
Print service providers can charge clients to add personalized or segmented messages and images to the address-side of mail pieces. Informed Delivery subscribers will see these messages at least twice–once when they view their daily Informed Delivery email and once again when they retrieve the physical mail from their mailboxes. In many households, the family member receiving the Informed Delivery email differs from the person gathering the day's physical mail, expanding the audience even more.
Save on Postage
Recently, the USPS announced plans for a new postal promotion for mail featuring Informed Delivery campaigns. Assuming the USPS proposal is approved, it will be possible to MAKE money on Informed Delivery during the promotional period slated for September through November 2019. It costs nothing to take part in the program which rewards mailers with a 2% postage discount on qualified mailings during the promotion. Service providers may pass the postage savings along to clients, split it with them, or keep it.
We covered more details about Informed Delivery and how to set up campaigns in our blog last year - Making More Money with Direct Mail.
Participation is Growing
The USPS is aiming for 40 million Informed Delivery subscribers by 2020. If you want to find out how many contacts on your list are already subscribed, the USPS offers a free pre-campaign analysis to assess the potential reach of your campaigns. For a more general idea, download THIS REPORT from the USPS that breaks down the numbers by region, state, and ZIP codes.
After your campaign, you'll receive statistical reports listing the opens and clicks associated with the digital messages. Schedule meetings with your clients to sit down and go over these reports. They offer an excellent opportunity to discuss next steps or new campaigns!
For a print service provider struggling to enter the multi-channel marketing arena, Informed Delivery can be an easy transition that requires no capital outlay. The U.S. Postal Service is offering plenty of help to get you started and your customers will benefit from the added exposure to their messages. Check out the program and make plans to talk to your clients about doubling their impressions and augmenting the effectiveness if their direct mail campaigns for a low incremental cost.
Gimbel & Associates shows our clients how to develop marketing, branding, multi-channel campaigns and communication programs for their customers.
E
Lois Ritarossi
Author's page
Lois Ritarossi, CMC®, is the President of High Rock Strategies, a consulting firm focused on sales and marketing strategies, and business growth for firms in the print, mail and communication sectors. Lois brings her clients a cross functional skill set and strategic thinking with disciplines in business strategy, sales process, sales training, marketing, software implementation, inkjet transformation and workflow optimization. Lois has enabled clients to successfully launch new products and services with integrated sales and marketing strategies, and enabled sales teams to effectively win new business. You can reach Lois at highrockstrategies.com.