Our Carbon Footprint: How Do Paper Products Fit In?
A household carbon footprint refers to the overall amount of greenhouse gas (GHG) emissions generated by all the energy and materials consumed by those who live in a home as they go about their daily lives. It is a common measure of the contribution of a single household to climate change. Understanding your carbon footprint can show opportunities for decreasing your consumption of energy and materials, and in turn, reducing your production of carbon emissions.
By far the largest source of human-induced carbon emissions, is the burning of fossil fuels such as coal, oil, gasoline, diesel and natural gas.  In GHG inventory and carbon footprint studies, the use of fossil fuels is usually the cause of elevated GHG emissions.
The U.S. Environmental Protection Agency suggests that the average American household produces 54,462 lbs CO2 each year from transportation, electricity, heating and waste production.[i]  The Cool Climate Network[ii] based at UC Berkeley took a more thorough look at American households and also included air travel, food consumption, services (such as health care, education and entertainment) and goods (such as clothing and personal items) in the household footprint calculation. They came up with an average household footprint of 96,000 lbs (48 tons) of CO2 per year (Figure 1).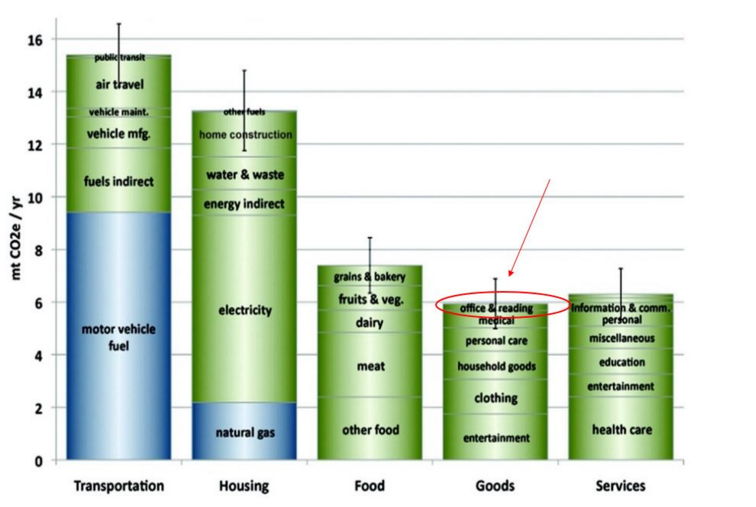 Figure 1: Carbon Footprint of a typical U.S. household: 48 tons per year (Cool Climate Network, UC Berkeley)[/caption]
So where does all this CO2 come from? The largest share comes from transportation and housing which make up 57,600 lbs CO2 or 60% of the total. That means that driving our cars, heating and/or cooling our homes and running appliances make up the major part of our household footprint. Food contributes another 15% with much of that a result of the large amount of energy required to produce meat. Goods and services each contribute 12.5%, with entertainment, clothing and health care being the main sources of CO2 in those categories.
And where might paper and print consumption fit in? The Cool Climate Network has a category called "office and reading" which includes paper as one component. The whole category represents about 400 lbs of CO2 annually or 0.4% of total household CO2. Similar results were found in Finland where 0.9% of the overall climate impacts of household consumption were attributed to printed products.[iii]
E
Phil Riebel
Author's page
Phil has over 28 years of international experience related to sustainability and the forest products industry. He currently leads Two Sides North America, a non-profit that promotes the unique sustainable features of print and paper, as well as their responsible production and use. Two Sides operates globally in five continents with members that span the entire graphic communication value chain. Phil has written extensively on sustainability and environmental topics related to the forest products sector. He received his Bachelor and Master's of Science degrees from McGill University in Montreal. He is a private forest owner and sustainably manages over 200 acres of forestland for both recreational and economic benefits.