SG360º Completes Wheeling and Broadview, IL, Office Renovations
WHEELING, IL—April 29, 2015—SG360º has recently completed the renovation of its Wheeling Road corporate office in Wheeling, IL, along with its Broadview, IL, web facility. Designed and supervised by Oak Brook, IL-based Whitney Architects, the Wheeling and Broadview renovation is the final stage of a three-year project that began with SG360º's Gilman, IL, facility and Wolf Road facility, also in Wheeling, to incorporate the company's new branding into environments that physically and visually communicate its commitment to its corporate philosophy.
In 2012, SG360º rebranded itself to communicate that it has evolved from a world-class direct mail printing company to a world-class provider of direct mail solutions that spans from ideation, research and data analysis to design and final production. SG360º wanted to instill the company's 'Four Arcs of Empirical Multi-Channel Integration' branding in all of its employee and customer experiences and called upon the expertise of Whitney Architects to design and develop the project.
"We have accomplished creating spaces that visually tell the story of our brand while physically constructing an environment that allows the most efficient workflow for optimum performance and delivery of world-class results," said Steve Bagby, SG360º senior vice president, creative director and corporate renovation design project lead. "All areas within SG360º are now places that people can gather to become enlightened about solutions and exchange ideas."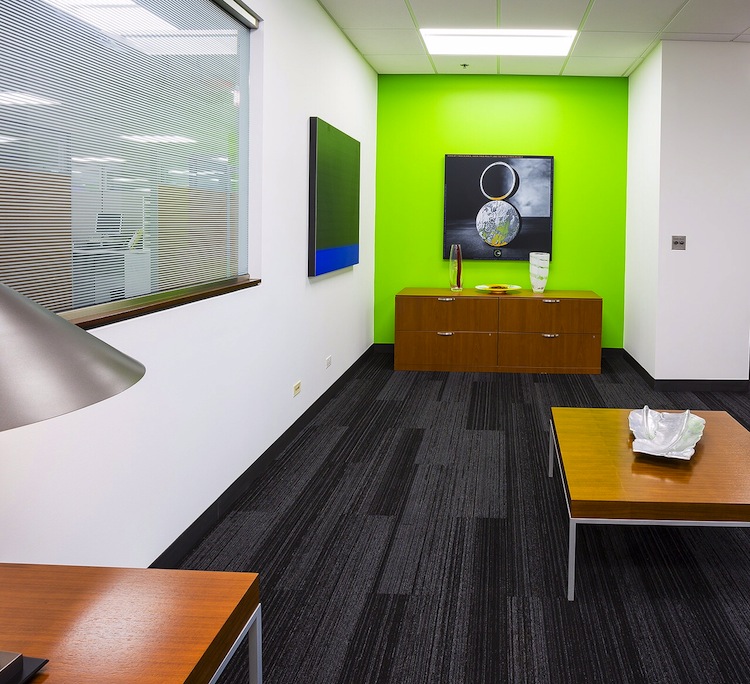 Every inch of the renovation was meticulously designed to benefit employees and clients by motivating them with the core essence of the company's brand. Translucent logos etched in glass walls are strategically positioned in open workspaces that take advantage of natural sunlight shining through and creating brilliant spectrums.
Logo colors that make up the '4 Arcs' are also used as backdrops on hallways and office walls where black and white artwork hangs that exemplifies the SG360º philosophy.
"The importance of a well-designed workplace to support connection to our brand and those working and visiting within our space is as important as ever," noted Rick Joutras, SG360º chairman, president and CEO. "The Activity Based Office concept we incorporated into SG360º's operations is supported by a recent Harvard Business Review article that stated digital communication does not replace face-to-face interaction and that remote teams do not perform as well as co-located."
The new Activity Based Office SG360º has built, physically embodies the company's brand and creates an environment where management, sales, accounting, designers, researchers and print production people can seamlessly work together to provide the best product for its clients. The platform supports interaction between the different functions of employees as well as customers.
About SG360º
SG360º clients are some of the nation's most well known luxury/clothing retailers, big box, food, electronic and home/hardware retailers. The company is involved in almost every industry—from finance to healthcare to automotive and other service industries, including some of the world's largest advertising agencies.
About Whitney Architects
Whitney is an architectural and design firm built on the fundamental belief that its work can change the way people work for the better. The firm is dedicated to the advancement of commercial interior architecture. It develops innovative, personalized solutions through focused listening and creative problem solving.
Source: SG360º.