Performance POP Increases Flexibility with Two HP Latex Printers, Upgrades
DALLAS—September 3, 2015—Performance POP, a specialty print service provider (PSP) offering in-house concept, design, manufacturing, distribution and in-store installation of point-of-purchase displays based here, installed two HP Latex 3000 Printers and upgraded two HP Scitex FB10000 Industrial Presses to HP Scitex FB11000 Industrial Presses to increase production flexibility and offer customers faster speed to market. Performance POP is now able to eliminate heavy reliance on screen printing equipment and pursue new customer markets that it could not previously reach.
Equipped with two HP Latex 3000 Printers, Performance POP is able to handle new business requests it previously outsourced. Adding high-speed roll-to-roll capabilities became a necessity as the company began to grow in the retail sector. Rather than outsourcing the steady stream of requests for backlit signage, soft signage and decorative wallcoverings from retail program clients, as in the past, Performance POP now produces retail applications in house with unmatched quality and speed.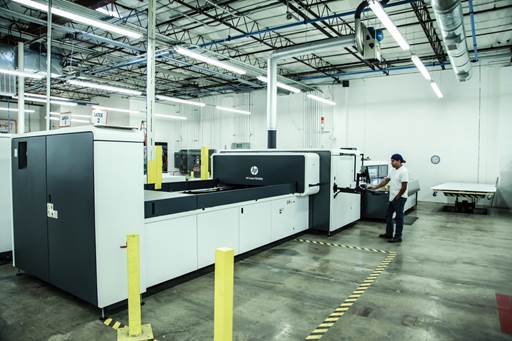 The addition of two HP Scitex FB11000 Industrial Presses enables Performance POP to compete with larger PSPs on retail signage programs while maintaining the flexibility and quick-to-react principles that make the company unique. With the ability to print up to 6,997 ft2/hr. on a wide range of substrates, including acrylics and polypropylene as well as flexible and rigid media, the HP Scitex FB11000 Industrial Presses are helping Performance POP deliver high-impact signage and displays with increased profitability.
"At Performance POP, we leverage our industry expertise, creative insight and retail environment experience to help our clients sell more products in their stores, and we needed our printing technology to keep pace with our desire to expand our offerings and grow our business," relayed Taylor White, president, Performance POP. "By bringing on HP's state-of-the-art, industrial-strength wide-format equipment, we are able to improve upon our core principals of creativity, accelerate turnarounds and increase flexibility in the types of products we are able to produce. This equipment rounds out the total program offering that we bring to our retail and consumer brand clients."