Call for 'Clean Up in Aisle Five'
"Oh. Well, I guess someone has to do it."
Those were the words uttered to a young print sales rep at a party, early in his career. He recoiled a bit at the biting commentary from a woman who delivered a better-than-you judgment and then turned her heel and walked away. It bothered him all night, into the next day and for weeks to come. It made him reconsider his career choice and those words returned to him when things got tough and his numbers were down. Did he make a mistake going into print sales?
People go into sales for two main reasons: income and flexibility. (This is important to remember, owners and managers, when you are looking to recruit a millennial to be your next salesperson.) Sales offers the chance to earn in direct proportion to your success.
Salaried workers might enjoy a whopping 5 percent increase if the company has an outstanding year and he or she receives a favorable annual review. Salespeople can see a 100 percent increase as a result of their outstanding year. The salaried worker who wants to see his child in the school play must ask for permission and take personal or vacation time. The salesperson calls the shots and never misses a mid-day family event. Yes, the young print sales rep thought to himself, I made the correct choice of job functions. His mood lightened.
But maybe it wasn't the fact that he was a salesman that was being judged so harshly. Perhaps it was the particular type of goods and services being sold: Print. Come to think of it, this wasn't the first time he had seen a negative reaction from someone when that word entered the conversation. He recalled the hesitation in his parents' voices when he announced the job offer. His friends shot looks to each other when they were told, too. At the time, they didn't register, but now it makes sense.
Backed by Full-Service Capabilities
He is now six months into this, his first job and his first job in sales. When informed which company he works for, those in the know respond quite favorably. He is told how lucky he is to work for a company with such vast capabilities and one that invests in training—both initial and ongoing—to make certain its salespeople are fluent in printing, mailing services, packaging, digital and variable, labels and signage.
This, too, makes him stand up a little straighter. It has not been an easy ride for him (He read somewhere that it's supposed to be hard: If it wasn't hard everyone would do it. The "hard" is what makes it great), but he is seeing glimpses of success here and there and his confidence is building along with his sales volume.
One day, armed with a shopping list, the young man ventured into his local mega supermarket. Rounding the corner and nearly bumping into another cart, he came face-to-face with a familiar shopper. It was the woman from the party. She had long forgotten the young man—probably right after meeting him—but he knew who she was and he greeted her kindly and politely. It took her a moment. She remembered the party, just not the encounter or the conversation. She was about to, however.
"When we met that night and I told you what I was doing for work, you said something that stuck with me. I told you that I was in print sales and you said, 'I guess someone has to do it.' I'll be honest with you, those words really stung me at the time. But now, with the benefit of hindsight, I'm actually grateful to you because it's given me a lot to think about. Now that several months have passed, it is fortuitous that our paths have crossed again because I get the chance to tell you just how lucky you are that I do what I do and how different your life would be if I didn't."
Now, it was the woman's turn to recoil, and she frowned in confusion. Cutting her off before she could reply, the young man continued: "Let's leave our carts here and take a little walk." And with that, he took her by the arm and led her down the aisle.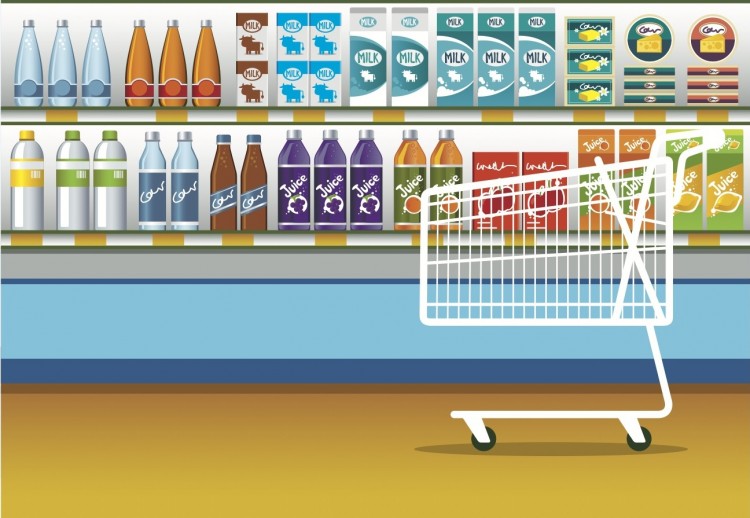 "I want you to imagine your world without print. None of the products on the shelves would be marked. You wouldn't know the calorie count or the ingredients. You wouldn't be able to tell one product from another because there would be no printed labels to tell you what you are buying or warn you about what might be inside. Think you would be able to recognize the packaging? Think again. There would be no packaging. This building would likely be filled with bins and scoops, and it would be up to you to figure out how much you were buying, not to mention how you were going to get home without the benefit of both packaging and shopping bags.
"What's more, you wouldn't know the price or the unit costs because nothing would be marked. And there would be no flyer arriving in the mail notifying you of sales and specials. There would be no coupons. There would be no signs and banners overhead. Nothing would cling to the floor to inform you that a new and helpful product is a few steps ahead and on the left.
"This entire building is filled with the value that my industry brings to people like you. Because of print, you know what you are buying, its value and nutritional content. Because of printing, you are able to choose between different sizes and buy just the right amount for your family. Because of print, you are notified of sales and specials and you get to experience a tiny rush of excitement when you clip a coupon and recall seeing a banner at the supermarket announcing that it will double the value to save you even more. Print is not only necessary, it is alive and exciting. It also invites creative people to use their creativity, augmenting printed matter with digital and online communication."
Returning to their carts, the young sales rep reached out to shake the woman's hand and concluded his well-thought-out response with, "I sell print. I sell mailing. I sell packaging. I sell labels. And by working with my clients and prospects to learn their needs, I sell solutions. I don't have to do it. I get to do it."
Looking in her cart, he read that the next item on her shopping list was spaghetti sauce. Reaching to the nearby shelf, he selected a glass jar and handed it to her, adding, "The sign says this one's on sale," and then pushed his cart past her and walked away.
The woman stood in silence, stunned. Then she did a 360 and looked at all the printing that surrounded her. The impact (and ignorance) of her words hit her at once and she dropped the spaghetti jar.
Cleanup in aisle five needed. PI
About the Author
Bill Farquharson is vice president at Epicomm and a featured presenter on PI Xchange. His Sales Resources page contains archived tips and Short Attention Span Webinars and is found at sales.epicomm.org. Farquharson can be reached at (781) 934-7036 or email bfarquharson@epicomm.org
E
Bill Farquharson
Author's page
Bill Farquharson is President of Aspire For, sales trainer for the graphic arts industry, author of "The 25 Best Sales Tips Ever" series and co-author of "Who's Making Money at Digital/Inkjet…and How?" Both are available on
Amazon.com
. Email him at
Bill@AspireFor.com
or call (781) 934-7036.
In addition to Bill's Printing Impressions monthly columns and weekly blogs, he publishes a weekly
Short Attention Span Sales Tips
providing instantly-applicable ideas for sales growth and its challenges. For further information, visit
BillFarquharson.com