The Changing Landscape of Commercial Printing in 2019
In terms of overall business conditions, expect 2019 to look a lot like 2018 for the commercial printing industry. Sales (all sources) will grow 1.5%-2.5%, to $87 billion, after growing roughly 1.7% this year, according to SGIA. And the intense pressure on margins will continue — created again by tight paper markets, tight labor markets, excess capacity and rising tariffs.
But there's a lot more to commercial printing's story than overall business conditions. There's also ongoing change in what a commercial printer is and does — structural labor shortages; print's changing role in communication; personalization, integration and interactive/mobile; and the realities of diversification.
Industry Convergence Trend Confirmed
A recent survey of the SGIA Commercial Printing Panel fills in the details. We first asked the panel to describe their companies. Responses show how extensively roles are changing. For example, more than 47% now describe themselves as a combination of company types rather than a single company type.
Descriptions include provider of mailing services (42.6%), provider of fulfillment services (28.2%) and provider of marketing services (20.1%). And while 72.7% include "general commercial printer" in their description, just 34% define themselves exclusively as a general commercial printer.
A discussion of revenue composition reinforces three critical points. First, the trend is clearly toward print, with our research group expecting something other than printing to provide, on average, 25.6% of their revenue by 2020, up from 20.2% today and 16.2% two years ago. (See Figure 1)
Second, not everyone is diversifying. Slightly more than one-fifth still get at least 90% of revenue from print and don't expect that to change. More than a few are making it work.
[caption id="attachment_116437" align="aligncenter" width="460"]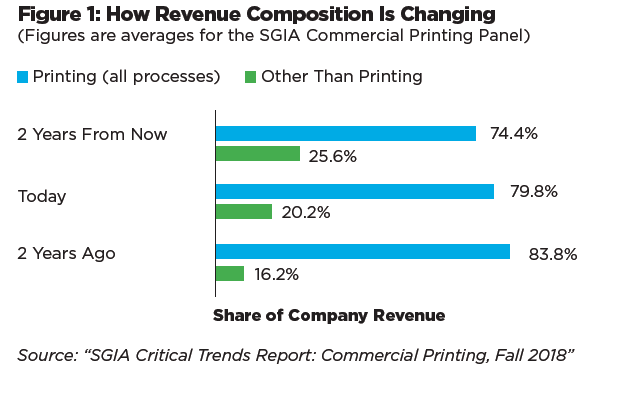 Click to enlarge.[/caption]
And, third, there's big change within print. The panel projects revenue increases over the next two years, averaging 9.4% for wide-format, 5.6% for variable-content toner digital, 4.1% for inkjet and decreases averaging 1.1% for lithography.
Andrew D. Paparozzi
Author's page
Andrew D. Paparozzi joined PRINTING United Alliance as Chief Economist in 2018. He analyzes and reports on economic, technological, social and demographic trends that will define the printing industry's future. His most important responsibility, however, is being an observer of the industry by listening to the issues and concerns of company owners, executives and managers.
Previously, he worked 31 years at the National Association for Printing Leadership. He has also taught mathematics, statistics and economics at various colleges.
Andrew holds a Bachelor's degree in economics f rom Boston College and a Master's degree in economics — with concentrations in econometrics and public finance — from Columbia University.