Gold Ink Awards Entry: Hawaiian Airlines' Hana Hou! Magazine Stands Out with Color
PHILADELPHIA—May 22, 2015—Lithographix, in Hawthorne, California, submitted the October/November 2014 edition of Hana Hou! in the Specialty Magazines, Web, category of the Gold Ink Awards. The issue pays a special tribute to Hawaiian Airlines' 85th year in business, and honors one of its early pioneers, Jimmy Hogg, who joined the airlines in 1930, and moved up the ranks to co-pilot in 1936.
What makes this magazine stand out are its vibrant colors and intriguing photography on the cover. The October/November 2014 edition of Hana Hou! was printed on a six-color, 38" Mistubishi gapless heatset full-web press, for a press run of 135,000. The paper used was TopKote 80# Cover and 50# Web Gloss Book. The publication was printed four-color process with a UV coated cover, and was perfect bound with PUR glue.
"When Hana Hou! partnered with Lithographix seven years ago, we helped them become one of the premier, in-flight printed publications in the world," says Brian Campbell, senior account executive. "Lithographix helped launch Hana Hou's complete in-house color and prep department. Hana Hou has always had the highest expectations for excellence in editorial content, photography, design and printing. This issue, like all of their publications, reflects these core values, and we're glad to be part of their team."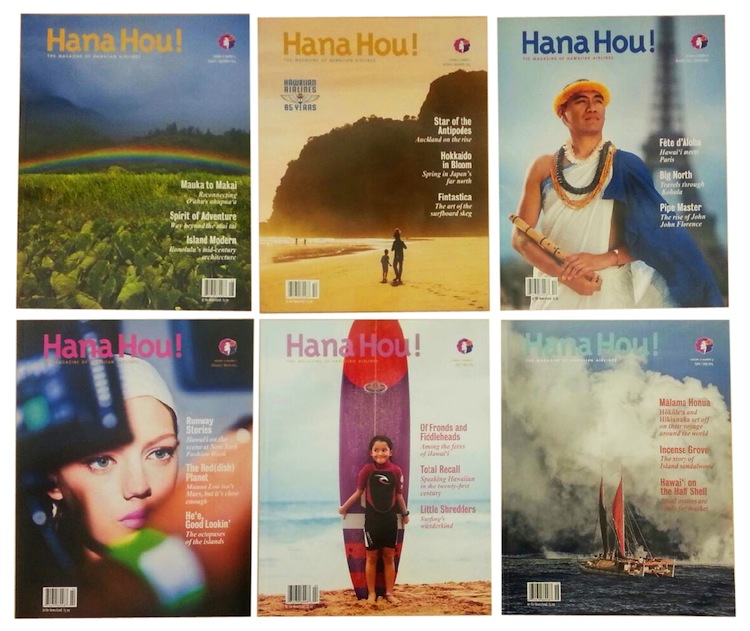 Click on the image to the left to view some of the other issues that Lithographix submitted in the Specialty Magazines, Web, category, for this year's competition.
Do you think you can beat this Gold Ink Awards entry? If so, let's see your best work! Click here to choose from a complete list of categories and to learn more about why you should submit to the industry's most prestigious print competition. But hurry! The deadline for entries is June 5, 2015!
All winners will be recognized on the Gold Ink Website, through our social media platforms, in Printing Impressions magazine, and will have the chance to win the "People's Choice Award" at the gala awards event held during GRAPH EXPO 2015 in Chicago. Additionally, we will be regularly selecting a "Best Entry" winner that will be promoted across our multi-channel platforms.