9 Ways to Increase Sales Through Point of Purchase Marketing
In this post from Karen M. Wenning of Suttle-Straus Inc., Wenning highlights nine ways to increase sales with point of purchase marketing.
Often the hardest part about running a local business is getting customers through the door. But once that hurdle has been passed, you can optimize your marketing to take every advantage to upsell a customer for an increased transaction total.
Studies have found that upwards of 70% of consumer purchasing decisions happen at the point of purchase. Here are some strategies you can consider to boost the checks of customers within your four walls:
AT ARRIVAL
Marketing to inbound customers can start right in the parking lot:
1. Window clings - Notify passing traffic about a short-term sale or encourage customers to "Ask us about..." an upsell opportunity.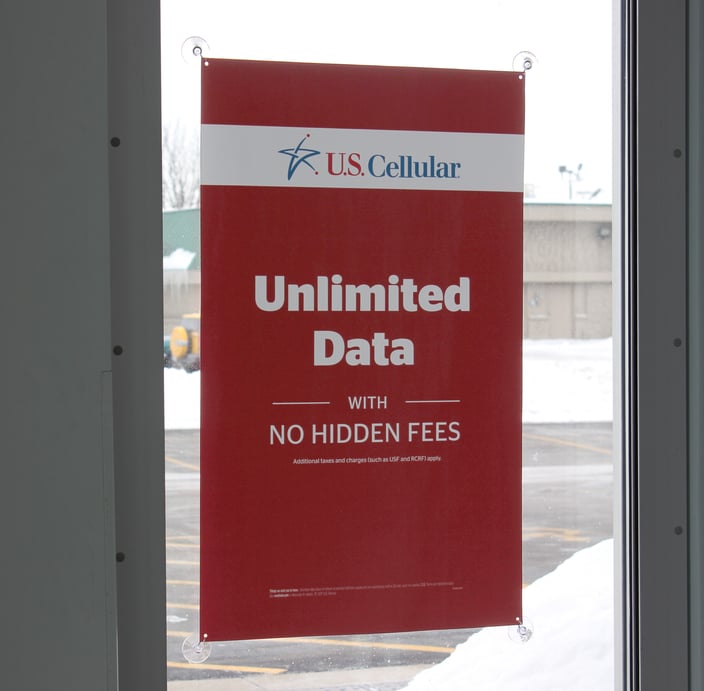 2. Vinyl banners - Promote new items or limited time offers with a temporary banner printed on material that will withstand the elements.
DURING SELECTION
While a customer is browsing a menu or store shelves you want to draw their eye toward add-on items that can increase their check total.
3. Shelf talkers - Also known as wobblers, these marketing messages jump off from the shelf to attract attention. They are also quite inexpensive to produce. You need your message to be short and powerful in this small space.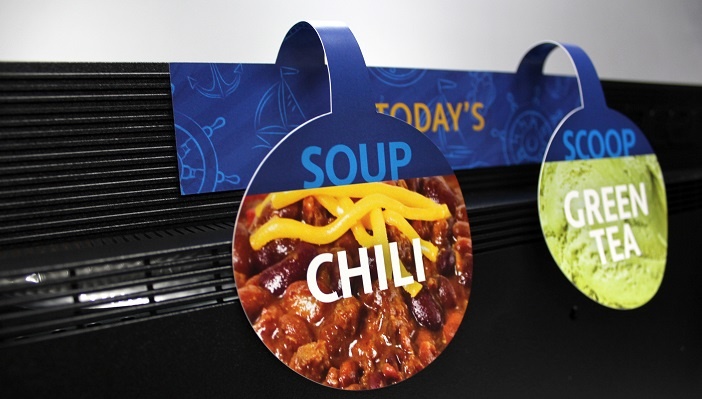 4. POP displays - Custom point-of-purchase or POP displays are often designed from lightweight cardboard or corrugated plastic that makes it easy for hourly workers to assemble and take down. These can be placed near the checkout registers or in the middle of an aisle to interrupt a shopper's path to promote a particular product.
AT THE REGISTER
The classic line, "Would you like fries with that?" is the stuff of legend because it helped McDonalds build its business through upsells and cross-sells. You too should harness these transaction points to offer additional items:
5. Counter mats - Promote the specials of the day with interchangeable magnetic graphics that are easy to swap. Highlighted items should be impulse buys or add-ons like dessert.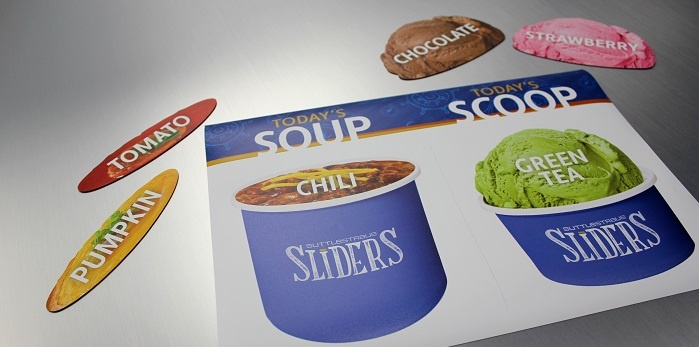 6. Floor graphics - These are printed on non-slip material so your messages can be right at your customers' feet.
AFTER THE SALE
After you complete a sale, it's not too early to start thinking about the next one. Encouraging a repeat sale can be achieved in multiple ways:
7. Customer loyalty cards - Buy 9 items, get the 10th one free! Paper punch or stamp cards or plastic membership cards can both work to encourage loyalty.

8. Bag stuffers - Have an upcoming sale or special event? Put a flyer into their bag at checkout that will remind them to mark their calendars to come back.
9. Bounce back coupons - If you collect contact data from your customers at each transaction you can then email or mail a bounce back coupon to ensure first time visitors become repeat visitors.
The possibilities go far beyond this short list. A printer who can work across all formats will work best as your single source to provide a comprehensive set of marketing messages that work together as a cohesive campaign.
About the Author
Karen M. Wenning aspired to be a cowgirl or a farmer, but after graduating from UW Madison she found herself crafting prose for luxury brands at an advertising agency. There, she developed a passion for working with graphic designers and marketing professionals, creating brand-right marketing across their networks. As a former client of Suttle-Straus, Karen joined the team in 2008 serving in marketing and sales. She considers herself an accidental salesperson, on a mission to increase her clients' traffic and sales. At home, Karen can be found challenging her husband and three children to a downhill ski or swim race, growing organic produce while fending off garter snakes, or herding her small flock of chickens.