The 2014 Printing Impressions 400 (PDF)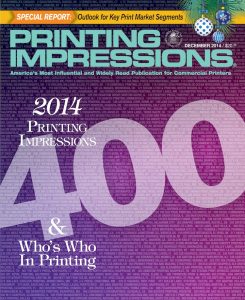 The team at Printing Impressions has compiled the 2014 Printing Impressions 400 list of the largest printing companies in the United States and Canada as ranked by annual sales. The following list marks the 31st consecutive year that we've compiled the PI top printer rankings.
The listings include company name and headquarters location; parent company, if applicable; current and previous year's rankings; most recent and previous year's fiscal sales; percentage change; primary product specialties; principal officer(s); number of employees and manufacturing plants; as well as the firm's complete range of in-house digital and analog printing process capabilities.