Inkjet: How to Decide What's Best for Your Printing Business
Nearly all printing companies have by now pondered the idea of adding digital inkjet devices to their production floors. Top performing companies have already made the move, and it's paying off for them. It's no wonder that inkjet is so popular, but printers have lots of choices when they decide to invest in an inkjet press. How do you know which one is right?
There's no single answer that applies to everyone. An astounding number of variables will affect this decision for your organization. For now, let's consider some of the most common scenarios that guide a print company's decision about inkjet press acquisition.
Objective
What do you want to accomplish? More personalization, faster production, expanded capabilities, reduced operating costs, workflow efficiency, consistent color, and economical small print runs are goals cited by many companies. Once you define the most important aspects of inkjet printing for your company, you'll have a way to compare devices and technologies.
Vendor Points of Differentiation
You can buy inkjet presses from a variety of vendors. Just as important as what you buy is the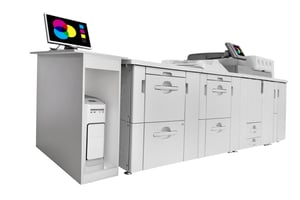 company from which you will buy it. Training, sales development and marketing assistance, service, and other customer support will likely influence your decision.
Web or Sheetfed?
This inkjet decision is straightforward. If you're planning on running lots of high-volume jobs that use the same paper stock, and productivity is a priority, feeding the paper from a roll is probably the way to go. Conversely, shops that work with a wide variety of papers or anticipate smaller print runs should look into the many cut-sheet devices now available from several vendors.
Finishing Considerations
Unless you are planning a total production floor makeover, the inkjet press you buy must emit materials compatible with your existing finishing equipment. Paper stock plays a part here too. Test the paper your new press will require, ensuring it also works on all of your finishing equipment.
Note that if your finishing lines work with cut-sheets and you're buying a continuous roll-fed press, you must plan for an extra step to turn the rolls into sheets. The cutter will probably be integrated as part of the press, which will increase the footprint on your floor. Your warehouse space requirements will change, and you'll need wider aisles to move the paper rolls around the shop. Be sure there's enough room!
Looking for Answers
Don't make such an important decision in a vacuum. Talk with several vendors, read everything you can find on devices under consideration, and attend trade shows or visit vendor demo rooms. Check out the Inkjet Summit conference happening April 24-26 in Austin, Texas. Network with members of your trade association to get feedback about their inkjet experiences. Visit sites where the proposed equipment is installed to observe the presses in operation.
An often overlooked resource is your own customers. Let them know about planned equipment upgrades and nail down their minimum requirements. This can be tremendously helpful in trimming the list of presses you will research. Your customer conversations may even uncover new work opportunities for the inkjet press!
Every printing company has a unique mix of customers and jobs. Local competition varies. Direct mail companies will rank inkjet objectives differently than commercial printers. Take all the variables into consideration and do your research. The vast majority of printers who invested in inkjet are happy about their decisions. It's likely you will be similarly satisfied provided you think through your decisions.
E
Roger Gimbel
Author's page
In 2001, Roger Gimbel founded Gimbel & Associates, an international consulting firm providing business and market development services, skills training, and expert public speaking in the graphic communications and digital solutions industry. The mission of Gimbel & Associates is to help clients identify new business opportunities and implement leading-edge solutions using expertise in organizational development, technology selection, implementation, and work processes.
Roger oversees a team of Consultants with expertise in sales training, workflow analysis, MicroModeling, multichannel marketing, marketing plans, transactional printing, trans-promotional applications and creative strategies for mergers and acquisitions, business development workshops and seminars.