How to Strengthen Client Relationships and Grow Your Business (Free Webinar)
ATLANTA—September 17, 2015—In the 20-minute free Webinar, "Are Your Clients at Risk? How to strengthen your client relationships and grow your business," sponsored by NAPCO Media, Butler Street, and Best of Print & Digital, Butler Street's Mike Jacoutot and Mary Ann McLaughlin discuss how retaining customers through establishing a frictionless customer experience is the way to strong references, referrals and future growth. In the Webinar, companies will learn methods that can be used to continuously assess how loyal their clients really are; the truth about where a company has performance gaps; and the one number that is a leading indicator of client loyalty. Companies will also learn about a new system of reinforcing activities that can easily be implemented to strengthen all of their customer relationships and grow their business.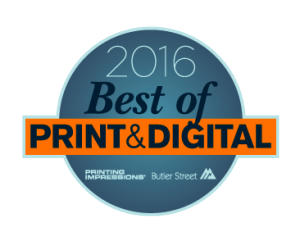 As part of its new alliance with Printing Impressions, Butler Street, a management consulting, training and research firm focused on client and talent development, provides the de facto industry standard for measuring customer loyalty through its Best of Print & Digital Customer Survey. In the Webinar, both Jacoutot and McLaughlin explain the Net Promoter Score (NPS) survey—developed in 2003 by Fred Reichheld and Bain & Co.—that is based on one simple question: "How likely is it that you would recommend [your company] to a friend or colleague?"
The foundation of the survey is that every company's clients can be divided into three categories: Promoters, Passives and Detractors. Customers respond on a 0-to-10 point rating scale and are categorized as follows: 9-10 Promoters: very loyal and actively speak positively about your company; 7-8 Passives: these are satisfied customers, but vulnerable to competitive threats; and 0-6 Detractors: they're unhappy customers who can damage your brand.
"Utilizing the Net Promoter Score as the industry standard enables the nearly 30,000 printing, digital and printing-related companies to truly differentiate themselves in the marketplace by measuring each company's performance through their customers' eyes," said Jacoutot. "Printing Impressions' sponsorship allows Butler Street to leverage NAPCO Media's vast industry experience, trusted Printing Impressions brand and media services to educate and expose more companies to the competition, resulting in a clear distinction for the Best of Print & Digital winners in their respective markets."
Butler Street's alliance with Printing Impressions includes survey offerings segmented into two major categories: Manufacturers to Distributors; and Manufacturers/Distributors direct to Customers.
"Our desire to help drive growth for the printing industry is reflected in the Best of Print & Digital," added McLaughlin. "The combination of Butler Street and Printing Impressions' service offerings provide for industry benchmarking, diagnostics and company-specific roadmaps to improved customer loyalty and profitable growth."
The registration for the survey is now open and companies can sign up through www.bestofprintanddigital.com. Surveys will be administered through Dec. 3rd. Results will then be tabulated and winners of the 2016 Best of Print & Digital award will be announced in Printing Impressions and Print+Promo's March 2016 issues, in addition to the marketing community via NAPCO Media's Target Marketing brand.
To learn more about the Net Promoter Score survey and how you can strengthen your client relationships and grow your business, click here to watch the 20-minute free Webinar.