Scholler Keeps Times Printing Flying High
Ray Scholler owes a great deal of debt and gratitude to his father, Henry (H.C.) Scholler, founder of Random Times Publishing, forerunner to Times Printing. In terms of passing down wisdom, the founder of the 84-year-old printing concern couldn't offer business acumen to his son.
"He taught me not to do business the way he did it," says Ray Scholler. "He was not a very good business man. He traded everything out—even the groceries were traded for advertising in the weekly newspaper—and had very little cash. As I got into the business, I knew that wasn't going to work. He'd never be able to buy any equipment or be able to pay anybody to work for him. He was a grand man and everybody loved him. But as far as making money, he didn't know a thing. He was a good salesperson, but he didn't know how to charge for it."
The founder was merely a product of the times—a poor horse trader willing to accept goods in lieu of money in exchange for his printing work on an old-fashioned Chandler & Price hand press. But he clearly passed down a tireless work ethic and a vision for success to his son, who took that single press and parlayed it into a $60 million company with 450 employees, making it the pride of Random Lake, WI. It also earned Ray Scholler a place in the 2002 Printing Impressions/RIT Printing Industry Hall of Fame.
Scholler not only kept the business in the family, now in its fourth generation of ownership, he kept it in Random Lake. But that's not to say it hasn't grown in the last 80-plus years.

Scholler is as old as the company, having been only two weeks old when H.C. Scholler accepted a guarantee of $1,500 a year in advertising from the Random Lake Advancement Association to start a newspaper for the community.Times Printing completed a three-year, $16 million expansion project recently that saw the company construct a 100,000-square-foot addition to its facility, giving the company 355,000 square feet of manufacturing space. The project included the installation of its third new web press in as many years, a Heidelberg M-130, along with ink-jet imagers for personalization, Creo computer-to-plate capabilities, color scanners and automatic binder feeders.
It seems that a few years earlier, an opportunistic publisher began a high-profile subscription campaign to generate paper sales for his publication, with a Model T Ford as the grand prize in the contest. When subscription sales failed to put a dent in the Model T's price tag, the publisher asked a friend to put up half the price of the car, with the understanding the friend would win the contest. Word of the scam soon leaked and, as was the times, the publisher was run out of town.
The senior Scholler may have been short on business savvy, but his ethics were fully intact, and soon the Random Lake Times was born. Ray became involved with the business at an early age and, except for a stint in the Army and a brief job digging ditches, he has been a printer for life. The ditch-digging job convinced him his future was in the ink-on-paper business. "It's as bad a job as everyone makes it out to be," he laughs.

Building the Business
Scholler came aboard in 1938, the year the company purchased its first Linotype typesetting machine for a cool $2,600. Aside from the weekly, the printer manufactured letterhead, envelopes and ruled forms, the variety that can now be created using Microsoft Excel. A Kluge automatic press was acquired after World War II, followed by a Miehle Vertical in 1950.
During this time, Times Printing's business began to expand in the magazine market, and Scholler found his favorite pastime in the process. He obtained his pilot's license in 1946 and, by 1953, copies of the Experimental Aircraft Association's publication ballooned from 40 to 400. The association wanted to have a magazine; they were printing a mimeographed publication initially, stapling velox prints to it. When the count reached 400, the association turned to Times Printing, which produced Badger Airway Beacon for the state of Wisconsin.
He has owned seven airplanes, and they have been as practical as they have been enjoyable. During the height of his travels in a sales capacity, Scholler logged 100,000 miles a year by car and plane.
"The Sport Aviation magazine turned out to be our biggest publisher," Scholler says. "As that one grew, we put in more equipment: a two-color sheetfed press, then a half-web and a full web.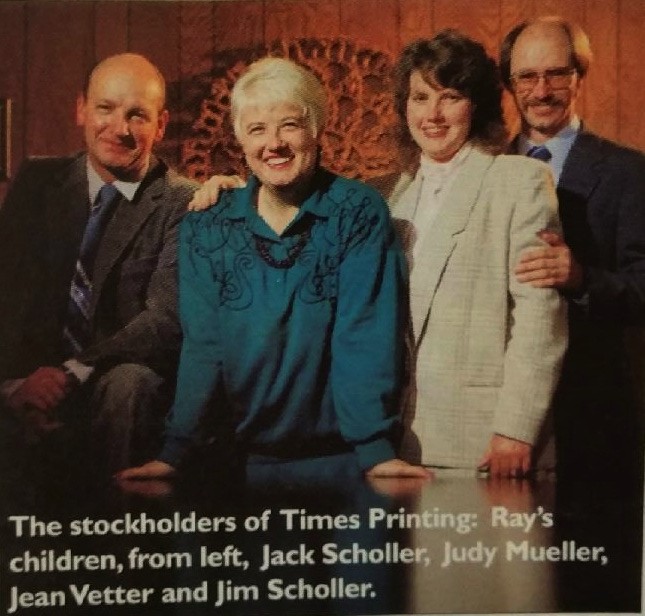 "We don't have any competitors, just friends in the same business. We preach that and we try to live by that. There are other printers who come out here and cut prices, but I don't think anybody has ever said a bad word about our company. Maybe they have, but I haven't heard it," he adds with a laugh."My son, Jack, is an engineer and he's more or less running the place. He hooked up with some good salespeople who took us into a higher grade of printing. We have 100 magazines in the plant now. We do labels for Kraft Foods—that's a multi-million dollar business. We also won several awards over the past few years for outstanding workmanship from the PIA. We just grew very slowly; there was nothing that impacted the business.
Times Printing found a new home in 1961, when it acquired a parcel of land from the Random Lake Development Corp. that was previously occupied by Jung Brewing. In 1988, the village started an industrial park and Times became the anchor with a 60,000-square-foot building, since expanded four times to cover eight acres.
Not that there weren't bumps along the road, or a little turbulence. In 1978, Times Printing was awarded the contract to do printing for the state of Wisconsin. The original specifications mandated that all matters would be coordinated through the Office of Procurement in Madison. In the end, 81 different agencies bought printing and had their own specs, making billing an absolute nightmare.
"That was holy hell," Scholler exclaims. "I never saw such a mess in my life. After nine months, we spent $30,000 to buy out of the contract."
Shoots From the Hip
Scholler is a straight-shooter, never one to mince words or sugarcoat anything, an approach his clients have respected and admired. And his printing plant is one of the cleanest you'll find anywhere.
In the early days of the company, or B.C. (Before Computers) as Scholler says, he rarely ever quoted prices to customers. Many of his regular clients didn't request one either. One Milwaukee restaurant came to Times Printing to have its menus made. A 350- to 400-pound chef came to pick up the finished product and told Scholler, "You don't give me a price. . . if you screw me, I come sit on you."
"He got a good price," according to Scholler.
Scholler is proud of the quality of work Times Printing produces, and the fact that it has grown from a mere $800 operation to its current level of $60 million.
According to Niall Power, president of the Printing Industries of Wisconsin, Times Printing grew without becoming corporately larger, with the gap between leadership and the rank and file. "Ray has the classic family-owned company," he says. "He knows all of his employees. I remember that him and Bernice would walk around the plant handing out paychecks. That's a nice, personal touch."
Tom Poberezny, president of the Experimental Aircraft Association (EAA) in Oshkosh, WI, notes that Scholler is a presence in his community and represents all that is good about small-town life. On the business end, the EAA has been able to count on Times Printing under all circumstances.
"I can't think of a time when they ever let us down," Poberezny says. "They've helped us numerous times when we've missed deadlines, juggling their schedule to accommodate us.
"I've watched them grow from a small to large business, and still maintain that personal aspect. Ray has been able to transfer a culture to the whole staff. It goes deep into the organization."
Times Printing is also one of the best places to work in the United States, as cited by one publication. Nearly all benefits that are offered by large corporations are available at Times. The medical, dental and other benefits are generally equal to or greater than those offered by other businesses or organizations.
"We have a picnic every year for our employees, a pig roast and turkey roast, with all kinds of games," Scholler says. "One time an employee had a fire in his home, and our employees took up a collection. They gave him $2,500 to buy new furniture."
Bernice Scholler, his wife, business partner and best friend of 61 years, has been his driving force. A stroke has confined her to a wheelchair. "She always went along with me, what ever I wanted to do," he says. "She's just a wonderful woman."