OAI Visual Creates Tampa Bay Lightning Branding Program for NHL Stanley Cup
TAMPA, Fla.—June 4, 2015—As a preferred graphics provider of the Tampa Bay Lightning, OAI Visual Branding created compelling visual environments for the 2015 NHL Stanley Cup Final that will drive attendance, enhance fan experiences, deliver branded impressions and increase sponsorship benefits.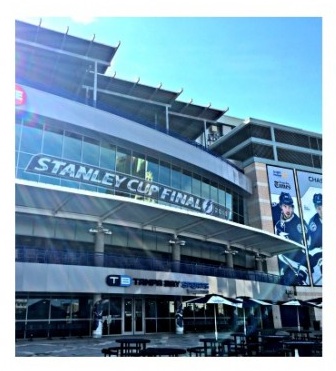 "Since the night the Tampa Bay Lightning advanced to the Stanley Cup Final, our team has been busy preparing to brand Amalie Arena," said Crystal Richardson, sales manager of OAI Visual Branding. "We were at the office Saturday preparing files for production and saw the Blackhawks were up 2-0 in the first period, that's when we knew the first 2015 Stanley Cup Final game would be in Tampa. Fueled with excitement and a tight deadline, we worked all through the weekend to get everything turned around quickly."
In celebration of advancing to the Stanley Cup Final, The Tampa Bay Lightning wanted to create a first-class event for the Tampa Bay community and all hockey fans to enjoy during both home and away games. OAI Visual Branding delivered on this goal by utilizing the 2015 NHL Stanley Cup Final brand in collaboration with both teams' images, colors and logos across various surfaces of Amalie Arena including: wall murals, window graphics, column wraps, pole banners, decals, sponsorship signage, banners and much more. In addition to branding Amalie Arena as a main event site of the Stanley Cup Final, OAI Visual Branding will promote the Stanley Cup Final with graphics at various hotel locations and events throughout the Tampa Bay community.