GRAPH EXPO 15 Organizers Reveal Number of Verified Attendees and Companies
RESTON, Va.—October 22, 2015—Underscoring its position as the year's industry event, GRAPH EXPO 15, held Sept. 13-16 in Chicago's McCormick Place, welcomed a total 17,941 verified participants, which included exhibitors and attendees, and 11,534 actual verified attendee/buyers who came from among 12 key industry segments to explore the future of print. According to exhibitors, these decision makers—who represented 6,758 unique buyer companies—came well-prepared with shopping lists in hand to examine, compare and invest in the latest graphic communications technologies.
Based on its commitment to reporting the most accurate attendance numbers, the Graphic Arts Show Co. (GASC) reports exclusively on 'actual verified attendees,' defined as registered onsite show goers—counted only once—regardless of their number of days at the show, or times they enter the exhibit hall. But not all organizations count this way, which has caused confusion when attempting to compare various shows' data, since all are not presented in an "apples to apples" format.
Exhibitors have asked that this year's show report, based on the following definitions, provide the data in three ways to illustrate how the GASC verified attendance data would look if reported by the methods other industry shows use to calculate their data:
Verified: Attendees counted only once, regardless of number of days at the show or number of times they enter the hall.
Non-Verified: Anyone registered for the show, regardless if they actually attend.
Daily Count: An attendee-buyer counted each day they visit the show.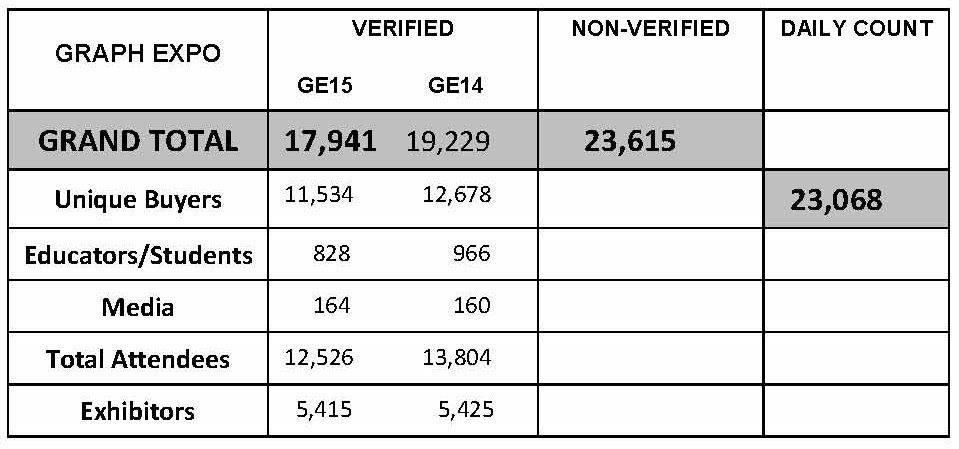 Looking ahead, GASC will continue to provide its show data in the most transparent and accurate way, and provide additional comparative data.
GRAPH EXPO 15 presented a comprehensive exhibition of the latest profit-enhancing technologies, along with scores of unique new applications, to intrigue a diverse spectrum of industry buyer/attendees. Plus, making their 2015 world debuts, GRAPH EXPO also unveiled three new show floor features: the Industrial Printing Pavilion, Materials Matter, and Applications Island. The show-going experience was further enhanced by a robust assortment of 57 co-located conferences, meetings, user groups and activities that afforded attendees a host of new and expanded networking and education opportunities.
Next up for the industry, GRAPH EXPO 16 set to take place Sept. 25-28, 2016, at the Orange County Convention Center-North, in Orlando, Florida.
About GRAPH EXPO 15
Recognized as the most innovative and comprehensive exhibition in the Americas of inkjet, digital, offset, flexo, gravure and hybrid technologies, products, and services for the commercial, transactional, converting and package printing, publishing, mailing, in-plant, photo imaging, marketing, and industrial printing industries, this year's "Transform" themed GRAPH EXPO 15 offered an exciting show-going experience for a diverse spectrum of attendees. The industry event presented the latest graphic communications technologies in live equipment demonstrations across the exhibition floor, plus education on the most in-demand products and newest profit-making opportunities. GRAPH EXPO 15 offered more than 70 interactive learning sessions and 50+ co-located events for attendees across 12 key market segments.
About Graphic Arts Show Co. (GASC)
GRAPH EXPO and PRINT are produced by the Graphic Arts Show Co. (GASC). GASC is owned by Epicomm, NPES The Association for Suppliers of Printing, Publishing and Converting Technologies (NPES), and the Printing Industries of America. GASC is located at 1899 Preston White Drive, Reston, VA 20191. Telephone: (703) 264-7200, fax: (703) 620-9187, email: info@gasc.org.
Source: GASC.