Gilman Brothers Proudly Celebrates 120th Year in Business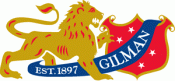 GILMAN, Conn. - November 14, 2017 - "Proudly Family Owned and Operated .. for 120 Years!" announces the banner at the top of The Gilman Brothers Company's recently updated website.
Based in Southeastern Connecticut, in a village bearing its founder's name, The Gilman Brothers Company enjoys a global reach, distributing its foamboard products through a strategically positioned network of channel partners and a regionally based business development team to maximize customer touchpoints throughout the entire supply chain.
Bill VanHorn, director of sales, who joined Gilman Brothers in 2014, heads up the rapidly expanding commercial team of the company. "I'm humbled to lead such an amazing team. How many people can say they work for a 120-year old company? New products, services and offerings throughout the entire supply chain cycle will keep this machine growing and growing - the future is incredibly exciting!"
Originating in New York City, where in 1897 Nathan Gilman established himself in the bedding business, The Gilman Brothers Company has a long history of diversification and innovation. In its 120-year history, the family has manufactured cotton batting, insulation, and in the 1950s retooled to produce foam products.
Today, headed by Nathan's grandson Evan Gilman, the Gilman Brothers remains ahead of its time, continuously providing American-made, progressive products for the graphics market.
While maintaining old-fashioned business values like good customer service and a superior quality product line, The Gilman Brothers Company is also at the forefront of cutting edge technology. The company actively explores new avenues for growth, such as engineered manufacturing integration and retail analytic technology, to stay ahead of the curve in the competitive and everchanging retail display marketplace.
Progress requires change, and innovative people with creative new ideas have fueled the changes that have propelled the company forward.
"It's all about the people," says Evan Gilman, company president. "We have an amazing team that truly embraces the concept of "anything is possible." With recent expansion and manufacturing upgrades, our future growth is inevitable. Our history is a celebration of progress, and a testament to the hard work and dedication of our employees who have made this progress possible."
The future looks exciting for The Gilman Brothers Company as it continues to expand and develop with products and services the industry has yet to see ... Here's to another 120 years!
Source: The Gilman Brothers Company.
The preceding press release was provided by a company unaffiliated with Printing Impressions. The views expressed within do not directly reflect the thoughts or opinions of Printing Impressions.